At wedding of HD Kumaraswamy's son, masks not in the picture | Pics inside
BENGALURU: On a day Karnataka's Covid-19 count registered a record jump, former chief minister HD Kumaraswamy's son Nikhil got married at the family's farmhouse in Bidadi (Ramanagara district), about 45km from here, giving a wide berth to social distancing and lockdown norms.
While the guest count varied from less than 80 to hundreds, depending on whom one spoke to, photographs from the ceremony showed the groom and bride, family members and dozens of guests huddling together, no one wearing a mask.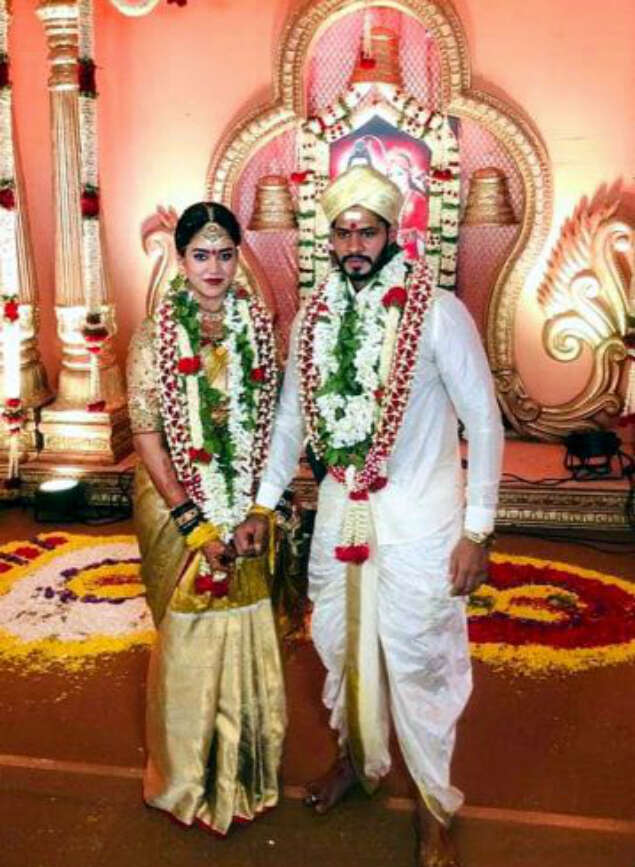 Nikhil (Right), son of former Karnataka chief minister HD Kumaraswamy, with his wife Revathi. (Photo: PTI)
Nikhil married Revathi, niece of former Congress minister M Krishnappa, on Friday morning — an auspicious date and time fixed much before the Covid outbreak, Kumaraswamy had said. Besides the former chief minister, in attendance were former PM HD Deve Gowda and wife Chennamma — grandparents of the groom — Hassan MP and cousin Prajwal Revanna and uncle and former state minister HD Revanna. Several other family members were also present.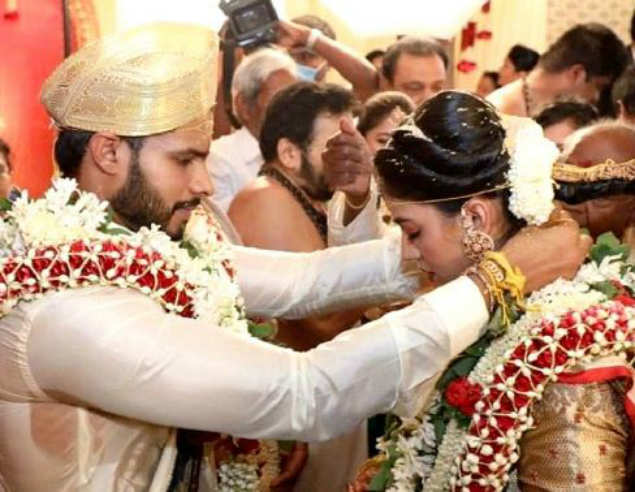 Nikhil tied the knot with Revathi, the grand-niece of former Congress minister M Krishnappa, in Bengaluru on Friday. (Photo: ANI)
Nikhil, an actor, made an unsuccessful Lok Sabha electoral debut from Mandya in 2019. As photos of the wedding emerged, showing elaborate floral arrangements and decor, social media erupted in anger, questioning if lockdown norms were only for common citizens. One user called it an "irresponsible act" by both the former chief minister and the incumbent, BS Yediyurappa. Taking to Twitter, Kumaraswamy denied any violation of lockdown norms.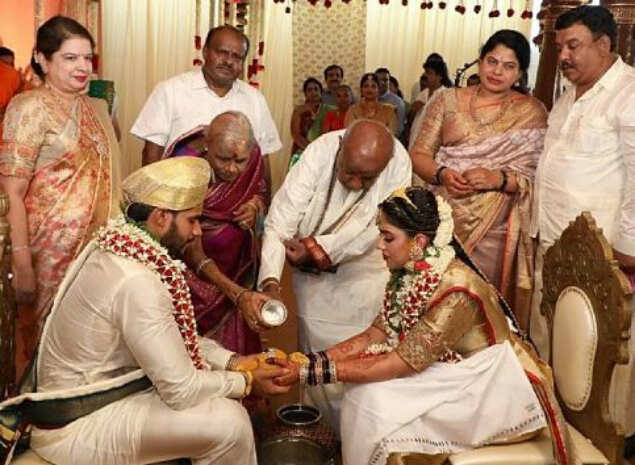 Besides the former CM, former PM HD Deve Gowda and wife Chennamma were also present. (Photo: PTI)
Amid mounting allegations, deputy CM CN Ashwathnarayan, who is also the Ramanagara in-charge minister, said: "I will seek a report from the Ramanagara DC and SP to check if there were violations of permission conditions, and take appropriate action." Medical education minister K Sudhakar said permission had been given for "limited people" at the wedding. Official sources said the wedding was allowed with not more than 80 guests and 42 passes issued for vehicle movement.
Source :timesofindia